Blog
How Carbon Nanotubes Can Revolutionize Transparent Heating Applications (No Visible Microwires)
August 15, 2022
The most advanced sensors do little good if it takes no more than bad weather to render them ineffective. Snow, ice, rain, and condensation can all interfere with the performance of sensors used in advanced driver assistance systems (ADAS). But the demands of this technology — including optical camera sensors, Radar sensors, and LiDAR sensors — have ushered in a new brand of transparent heating that turns inclement weather and harsh conditions into non-issues.
In this post, we will take a look at the profound impact of carbon nanotubes (CNTs) and how their application via AgeNT™ can revolutionize the market for transparent heating.
The challenges with the incumbent technology
Introducing the AgeNT

™

transparent conductive platform
Applications that benefit from AgeNT

™

transparent conductors
Challenges with incumbent technology
Once the go-to solution for transparent heating, metal microwires were designed for another era. As sensor technology has rapidly evolved, so has the need to find a solution better equipped to meet the new demands. If the sensors are not free from ice, snow, rain, or condensation, they simply will not work. And faltering sensors are not only a nuisance but can also pose a risk to users, who may rely on them for their safety on the road.
Patterns decrease visual performance
The challenge has been finding a conductive material that combines both optimal visual performance and maximum conductivity. Patterns and opaque layers do not achieve the former, while lacking conductivity limits the heating speed and range.
The incumbent transparent heating technology features either microwires embedded inside a laminated structure or created from printed metallic inks on clear plastic or glass surfaces.
But traditional microwire solutions come with drawbacks.
The opaque microwires are clearly visible (think rear view window defoggers)
They do not de-ice uniformly (again, picture the lines created as ice first melts along, but not between, the wires)
In addition, the widespread adoption of LED headlights and the projected takeoff of electric vehicle (EVs) sales are among the distinct trends that raise the stakes for transparent heating applications:
No heat: Unlike halogen lights that heat up, thereby automatically de-icing, LED lights do not generate heat, leaving the ice in place unless a new method is deployed.
No combustion engine: Since EVs do not include an internal combustion engine, alternative heating methods are needed to defog and de-ice window glass and to maintain comfortable cabin temperatures.
Introducing the AgeNT transparent conductive platform
Carbon nanotubes are routinely touted for their "change the world" qualities. Their structure brings unique chemical, electronic, mechanical, and optical properties to a wide range of applications. In the AgeNT™ transparent conductive platform, CHASM™ leverages certain CNT properties to create a product that delivers faster and more uniform heat to any surface to clear snow, ice, or condensation.
At the core of AgeNT™ are novel transparent conductive films (TCFs). Created by printing CNTs on top of silver nanowire (AgNW) or copper metal metal (MM) substrates, the resulting AgeNT™ nanotube hybrid TCFs are more robust than AgNW or MM and more conductive than CNTs.
In this case, the use of CNTs enables:
Mechanical reinforcement to the more fragile AgNW and MM structures since CNTs are one of the strongest materials known
Electrical redundancy
Excellent connectivity to the surface of the TCF
Environmental protection for the underlying AgNW and MM layers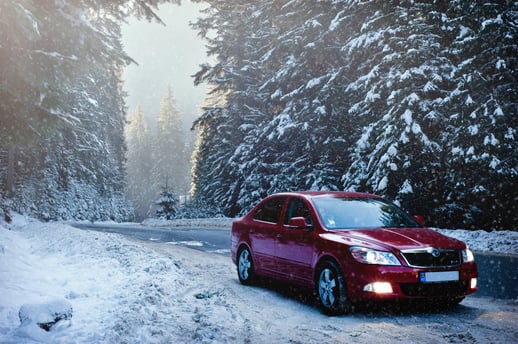 Applications that benefit from AgeNT
™

transparent conductors

The proliferation of sensor technology is poised to continue. Sensors are now indispensable to a wide range of industries, from automotive to healthcare. Research and Markets notes: "Users will start accepting them as standard car parts, and automotive companies can integrate more intelligence into them until they achieve the goal of an autonomous car."

Many of the features of advanced driver assistance systems, including adaptive cruise control, blind spot detection, lane-departure warning, drowsy-driver alert and parking assistance, are crucial to safety. Drivers need to be able to rely on the systems at all times, regardless of the surrounding conditions.

The AgeNT™ transparent nanotube hybrid material is, in fact, the only commercially available transparent material capable of delivering the heat density required for applications such as collision avoidance, intrusion detection, and process control systems without wires. For ADAS and industrial HMI displays, the technology is a gamechanger.

A few benefits include:
Faster and more effective deicing & defogging: AgeNT

™

transparent heater foils can de-ice more uniformly and faster than microwires. For instance, a headlight lens can be fully de-iced in only 3 minutes, which is twice as fast as the same headlight lens heated with microwire technology.
Better versatility: The transparent heater foils can also accommodate 3D shapes and large areas more effectively and affordably than microwire.
Enhanced visibility: AgeNT

™

TCF material is available at <10 ohms/square with greater than 90% visible light transparency, making it ideal for applications in avionics, transportation electronics, kiosks, and more.
Improved design freedom: When external disruption due to ice or snow is no longer a concern, product designers and engineers can let convenience and aesthetics determine where to place cameras or safety features in the car.
Do you have questions for us about AgeNT™ or wonder how our pioneering use of CNTs could benefit your products? Contact us today. We are here to help.